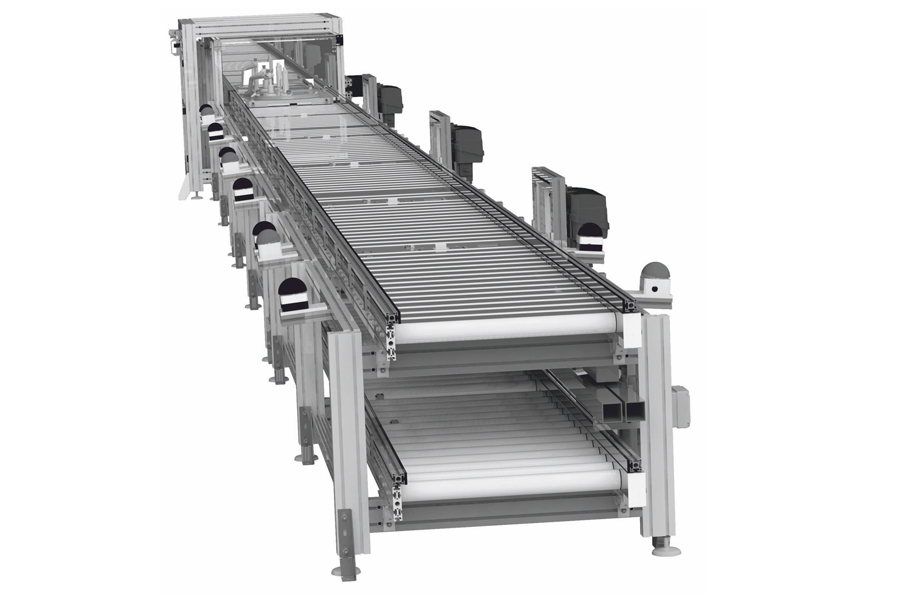 With a roller conveyor or a roller conveyor a variety of automatic transport tasks can be met. Sophisticated Kanya solutions guarantee efficient and safe execution.
Carrying roller conveyor
With this roller conveyor a wide variety of parts and parts carriers can be transported. The rolls are made individually according to the application and are available in different materials, shapes and with various coatings. The drive takes place by tangential chain via a single-sided sprocket. In this way, every single roll can be removed without having to disassemble the drive. The roller conveyor can transport a wide variety of goods - for example on pallets or in a container. The maximum load capacity of our carrier roller conveyors is 100 kg per roller (depending on the width of the roller conveyors). The rollers can be made with a diameter between 50 mm and 60 mm.
Friction roller conveyor with adjustable friction
The friction roller conveyor is ideal for the gentle transport of sensitive goods. The rollers are driven by adjustable friction clutches, which means that the roller conveyor can be individually adjusted at any point. If necessary, you will also receive separator as an accessory for the roller conveyor. The roller conveyor is driven by a continuous main shaft along the conveyor. This carries bevel gears to drive each individual role. The material used for the carrier rollers depends on the weight of the conveyed goods. The friction roller conveyor can transport workpieces in a size of 220x200 mm to 1,500x1,500 mm.
Neuhofstrasse 9
CH-8630 Rüti (ZH)
Switzerland
Tel +41 55 251 58 58
Fax +41 55 251 58 68